We've all done it. 
Received an insurance policy and immediately filed it away without so much as peeking at it. It's understandable—insurance policies can be intimidating. But your insurance policy contains some important information to understand. And it doesn't have to be daunting to read, if you understand the basics of a policy.
HOW TO READ YOUR POLICY TO EASILY FIND WHAT YOU NEED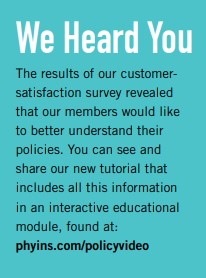 The first step in reviewing an insurance policy is to check it for accuracy. You want to ensure that the insured names are correct, that you received the right forms, and that you purchased the coverage you were expecting. If you see any errors, immediately report them to your broker or underwriter. Every insurance policy has five parts. (Some will include a sixth section known as Endorsements, which we've also included here.)
Declarations—The declarations page contains the name and address of the insured and the policy's term, retroactive date, coverages, limits, and premium.
Insuring agreement—The insuring agreement describes what the insurer agrees to pay for or provide. It basically describes what is included in your coverage for the policy term—in other words, what the insured is covered for. Generally, this is broad in scope and then further defined by exclusions, definitions, conditions, and endorsements.
Exclusions—Almost as important as what you are covered for is clarification on what you are not covered for. These clarifying points are called "exclusions." Be sure you understand any exclusions that reduce coverage.
Definitions—Insurance policies have common words with special meanings within the context of insurance, so your policy contains a section entitled "Definitions." These defined words will be in bold print throughout the policy and further clarify the coverages, terms, and conditions of your policy.
Conditions—Insurers require policyholders to adhere to certain conditions to remain insured. These conditions describe your duties and obligations. Conditions can also be things that are required of the insurer, such as state regulations.
Endorsements—In some but not all cases, a policy will have endorsements after the foregoing five main sections. This constitutes an amendment or addition to your policy. Endorsements can be included at the time your policy is issued, during your policy term, or at renewal, and your premiums may be adjusted as a result of an endorsement. Endorsements can cover a wide range of situations—for example, they can add, limit, or remove coverage or insureds. They can also add restrictions or limitations, change definitions, or add conditions. Always be sure to review any endorsements to your policy and make sure you understand them.
FURTHER ASSISTANCE
If you have any questions, be sure to ask your broker or your underwriter. He or she will be happy to explain things so you fully understand your insurance policy. It can be especially helpful to ask about any specific coverage questions you have; discussing scenarios from your actual experiences with your broker or underwriter may help everyone understand how your policy can best meet your needs.